If a man walks into a jewelry store during any time of the year (except for early February, early May or December) odds are he is looking for a gift for a woman as a birthday or anniversary present. For many men, a jewelry store is a foreign environment. His goal is to find a suitable gift she will like, at an acceptable price he will like and get out of the store as quickly as possible.
Women come in a jewelry store to shop. Men come into a jewelry store to BUY!
You can help this man solve his challenge by pre-selecting 10 great solutions to his dilemma. Choose 3 rings, 3 pair of earrings, 2 pendants and 2 other pieces to show. Diamond stud earrings and a diamond Anniversary band are great choices. Be sure the prices of the pieces you choose ranges from $100 up to the most expensive (Non-bridal) piece of jewelry in your store.
I like to gift wrap 10 boxes and put the wrapped box and a small tent sign (Avery Label item #. ) in the cases as shown below. Use "Emotional adjectives" from this website when writing captions
Be sure your sales team knows what and where the 10 items are.
Be sure you replace each item with the same piece each time you sell it.
The record sale by one of my clients (in SC) using this promotion is a $54,000 Diamond ring that had been in the same case for 18 mos!
The record number of sales by a client (in NY) is 17 sales in the first 2 weeks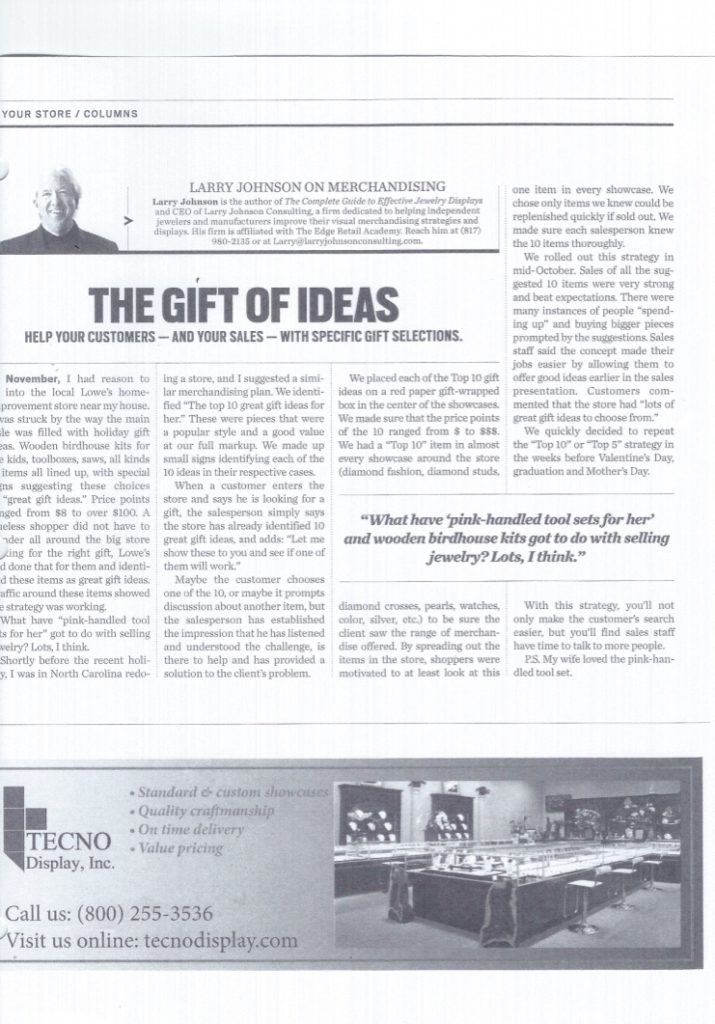 Examples of Emotional captions:
Incredible inside/out Diamond Hoops with 2.5 cts. of diamonds set in 14kt white gold $4650

Magnificent Emerald and diamond ring featuring a massive 3 ct. Emerald set among 1.5 cttw. of diamonds
$26,000

Thirty-seven diamonds totaling 6.10 cts set in a 14kt white gold tennis bracelet $10,375
Classic 1.0 cttw. round diamond ear studs set in 14kt.white gold. Wear them everywhere, everyday!
$2995

Fashion forward 18kt Yellow Gold Feather drop earrings with 397 diamonds totaling over 2.0 cts. $8395

Skinny bangle bracelet in 14kt white gold with .43 cttw. of diamonds is perfect for everyday use! $2075

Petite diamond cross with .13ct of diamonds set in 14 kt white old. $325

Stylish Diamond fashion bracelet made of 14kt yellow gold with .25cttw. of diamonds. $725

Oval hoop earrings of popular 14kt yellow gold. Perfect for work or play $115

Stackable 14kt yellow gold with .17 ct of beautiful diamonds $550

Popular lariat necklace in 14kt rose gold with 1.15 cttw. of white topaz with rose gold drop $1395